Bejsment.com Polish-Canadian Web Portal
A Polish-language web portal in Canada, based in the city of Mississauga, operated by Wiadomosci Press Inc. The searchable database includes more than 20,000 articles. They are frequently used by media outlets in Poland and other countries, and are created by journalists affiliated with the weekly "News" magazine. According to Google Analytics, the site is used by nearly 20 thousand unique users, who generate more than 245 thousand page views per month (2023).
Bejsment.com – Wikipedia, the free encyclopedia (Page in Polish).
Order Your Advertising in Wiadomości and Bejsment.com in English
You do not need to speak Polish to order ads for large Polish community in GTAH. To order a paid Classified ad or Display Ad online in English, to be printed in "Wiadomości" please visit clascal.ca. You will be offered translation. Through Clascal.ca anybody can order Classifieds and Display Ads in many ethnic publications.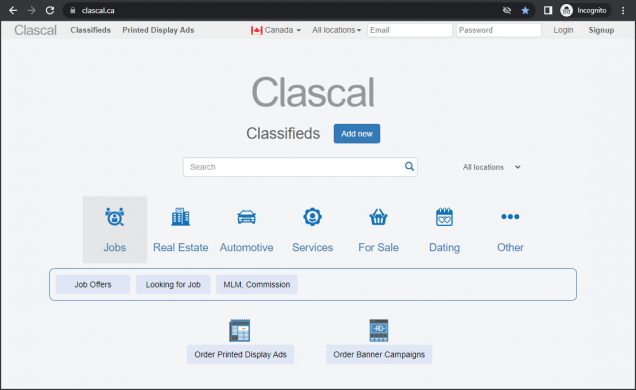 To order paid Display Advertisements by phone please call 416-270-6823.
Free Classified Ads can be ordered only through the Bejsment.com website, in Polish language. Ordering paid classifieds: 905-306-7368.
Wiadomości Ad Sizes in Inches
Full tabloid page 9.5 x 11.13
1/2 page horizontal 9.5 x 5.45
1/2 page vertical 4.65 x 11.13
1/4 page 4.65 x 5.45
1/8 page 4.65 x 2.613
business card 3.1 x 2

More Wiadomości covers and presence: Visit instagram.com/wiadomoscibejsment
Rotating Banners In Auction System
You pay as much as you want
You get large advertising banners throughout the Bejsment.com website. You decide how much you want to pay and what is your daily budget.
How it works
First, banners of the companies that offered the highest price are displayed, followed by those that offered the lower price. If the number of high-priced banner views is large enough, even ads with the minimum price will be displayed. If the number of high-priced banner views is small, your banner will not be displayed and you won't pay anything. You pay only when your banner is displayed. Currently, the suggested price is $4 for 1000 views of your banner (4 CPM).
How the price is calculated:
The mechanism for calculating the price is set in such a way that you pay THE LEAST. Suppose you offered a price of $ 10 for 1000 views, a second person offered $ 5 for 1000 views and a third person $ 2.50 for 1000 views.
Which ad will then be displayed? – Yours.
At what price? – At a price one cent higher than the other person.
So instead of $ 10 you will pay $ 5.01 for 1000 banner impressions thanks to this lowest price mechanism.
Now suppose your daily budget is $5
Therefore, your ad will be displayed about 1000 times on a given day, then it will stop showing because you have reached your daily limit. Now the ad with second-highest budget (CPM) will be displayed. How much will they pay? – again 1 cent more than the next in order, i.e. $ 2.51 for 1000 impressions.
Banner sizes in pixels
Displayed on all devices: telephones, tablets and computers:
For more information and to order, please call the editor: 905-306-7368.
Thank you for visiting Bejsment.com and Wiadomości!